01 02

03 04 05 15 16 19 20 21 22 23 24 25 26 27 28 31 32 33 34 last night, i was once again thinking about the chicago marathon. after getting rejected from another lottery last year, i was feeling like my chances about getting in to the chicago marathon via lottery were slim. i kept going back and forth "do i want to try it again? no, i don't want to have to wait for six weeks only to be let down. do i want to try a different marathon? no, i want to run chicago. well then i have to do the lottery..."

and then i had an epiphany. every time i see one of these singlets running a race or running down the lakeshore path, i smile...so then, why don't i wear one these singlets?!

that's right! last night, i signed up as charity runner for my favorite local charity, TEAM PAWS! i'm ecstatic. anyone who knows me knows that i love animals. my pets are totally a part of my family, i've been a vegan for over five years now, and i totally believe in the #adoptdontshop motto. i actually learned about PAWS before i moved to chicago. i was trying to get myself excited about going to a new city and leaving my friends behind in california, and when i learned that this amazing facility would be nearby, i was so thrilled.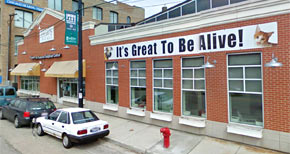 what is PAWS? PAWS is a no-kill animal shelter in chicago that is dedicated to helping homeless pets. whether it's rescuing animals from kill shelters, matching pets to their forever homes, providing medical care to injured animals, or working on trap-neuter-release efforts in the neighborhood, PAWS puts animals first. i've loved this facility for four years now (actually, i just put myself on their kitty city volunteer wait-list last month!) and i'm so so so excited to join TEAM PAWS for my first marathon!

something tells me i won't look this cool during my marathon...

ahhh, what! my first marathon. it sounds so crazy. i never thought i would be taking this challenge on. but now it's pretty real. i'm already looking at training plans for when i start in june and am keeping a running list of recaps of the chicago marathon to read. but first? i need to fundraise! i have a $1,000 goal to hit so that i can earn that singlet i love so much. and what does $1,000 do?


saves the lives of 3 homeless pets! if you're interested in the specifics of what the money goes to, head over to my TEAM PAWS tab for details! also, if you're able and willing, i would appreciate any support on my fundraising page. $1,000 seems like such a big daunting goal right now, but i'm willing to put in the work for the animals!

have you ever run a race for charity? who else is running chicago this year?!

-b

Labels: chicago marathon, team paws

35 36 37 38